Product Brochure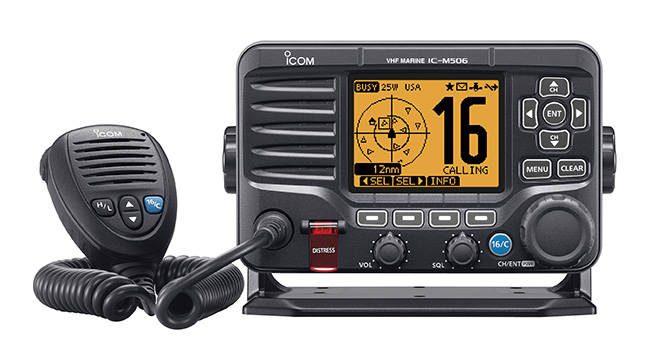 Icom has for decades had an excellent reputation in both the marine and aviation market as a go-to reliable product serving Nav/Com needs. In my experience, I can liken it to my choice to use Fluke electrical test meters and equipment above all else in diagnosing electrical problems over the last 25 years. Others make quality products, but there is just something in how these products are so absolutely consistent and trustworthy in their performance. You will find an Icom on my boat, and a Fluke meter in my electrical bag.
The M506 is available in several configurations. It is important to select the model that best suits the individual installation (specific needs/wants of the client) as there is a good variance in price among the models and some features may be unnecessary or unwanted depending on what other equipment is on the boat. Moving forward, as features are discussed, bear in mind all features are not available in all versions, but even the base model is a great VHF radio.
It has a relatively intuitive menu in regards to accessing features, especially when the size and number of available buttons are taken into consideration.
My favorite feature of the M506 (for specific applications/on vessels that don't have a need or want to have a full fledged AIS system installed) is that in one configuration this radio will receive (only) AIS data from all surrounding vessels (in VHF range) transmitting that data in real time. It will show those targets on it's screen, as well as, via the NMEA 2000 network connected properly to a compatible chart plotter, place those targets in their exact position relative to you. From there, it is possible to select those targets and access a wealth of information such as vessel name, DSC number, speed, bearing, etc. Some chart plotters have a collision alarm feature that can be coupled with this data, adding another level of safety.
The DSC (Digital Selective Calling) feature has the ability to store multiple DSC numbers from your friends, and after just a few button pushes there are options to call a buddy exclusively (eliminating the need for excessive hailing on a channel waiting/wondering if they are there) as well as sharing your position or requesting his/hers. Assuming proper equipment and installation on both vessels, it is possible to see each other's boats on their own chart plotters, a neat and potentially time saving maneuver.
Icom's Command Mic is also a great option for the M506. The Command Mic gives full function of the radio in another location via a wired handset with and IPX7 waterproof rating. This makes it for both a tower and other wet and/or limited space installations. The radio itself comes with a IPX8 waterproof rating.
The M506 is also available in a rear mic option. This allows the radio to be mounted in one location and the much smaller mic and cable mounted in another, more convenient location. How often do you see installs where the cable and mic are not readily accessible or in the way? I love a clean and logical install! The available flush mount kit helps with that discipline as well.
A final small feature that I like on my own boat, and the mode I run it in, is to have it display my GPS position, acquired from my chart plotter via the NMEA 2000 network. It's nice to always have position data viewable without any button pushes, and is also a visible indicator that the two devices are communicating as intended.